Vanuatu Visa Requirements
Citizens of most countries do not need a visa to visit Vanuatu (See list of countries below).
Visitors may stay 30 days with possible extentions up to 4 months.
Visitors must have onward tickets to a place where they have authorised entry and sufficient funds to support themselves in Vanuatu.
Visitors may not engage in any form of employment or business activities without a relevant visa.
People wishing to reside or invest in Vanuatu should first visit Vanuatu as a visitor and talk to the Vanuatu Investment Promotion Authority. This is the one-stop official source of information for anyone wishing to reside in Vanuatu - either for investment or retirement. Visit the VIPA website for more information.
Cruising yachts planning to cruise in Vanuatu should consult the Cruising Guide to Vanuatu information on Customs, Quarantine and entry formalities for international yachta.
No Visa Required to visit Vanuatu
Citizens of the following countries who are visiting for pleasure and not staying more than 90 days do not need to have a Vanuatu visa in their passports when landing in Vanuatu:

All Commonwealth Countries:
Antigua & Barbuda
Jamaica
Seychelles
Australia
Kenya
Sierra Leone
Bahamas
Kiribati
Bangladesh
Lesotho
Solomon Islands
Barbados
Malawi
Sri Lanka
Belize
Malaysia
Swaziland
Botswana
Maldives
Tanzania
Brunei
Malta
Tonga
Canada

Mauritius
Trinidad & Tobago Cyprus
Namibia
Tuvalu
Dominica
Nauru
Uganda
The Gambia
New Zealand
United Kingdom
Ghana
Nigeria
Vanuatu
Grenada
Pakistan
Western Samoa
Guyana
Papua New Guinea
Zambia
India
St. Christopher-nevis
Zimbabwe
St. Lucia
St. Vincent & Grenadines
All European Economic Community Member Countries:
Belgium
Greece
Portugal
Denmark
Ireland
Spain


France
Italy
United Kingdom
Germany
Luxembourg
The Netherlands
And:
Austria
Finland
Palau (Belau)
Bermuda
Japan
Philippines
Cameroon
South Korea
Portugal
Peoples Republic of China
Maldives
Spain


Cuba
Marshall Island
Sweden
Dependencies of United Kingdom
Federated States of Micronesia
Switzerland
Norway
Taiwan
Thailand
Dependencies of France
United States of America
Fiji
Citizens of other countries must apply to:
Principal Immigration Officer
Immigration Department
Private Mail Bag 0092, Port Vila
REPUBLIC OF VANUATU
Ph: (678) 22354 Fax: (678) 25492
APPLICATION FEE: VT2,500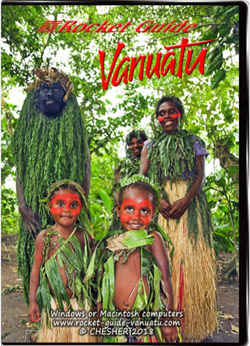 Be prepared for a happy, satisfying holiday.