Plan a Vanuatu wedding
and honeymoon vacation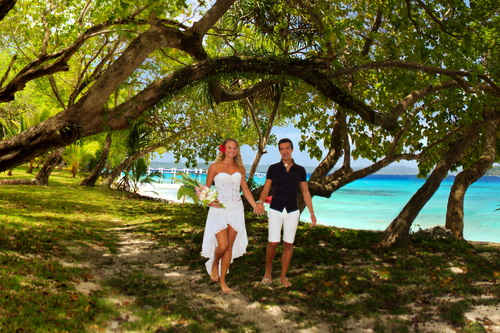 Holiday Weddings

Vanuatu Wedding Honeymoon combinations are the perfect climax for a romantic holiday. Download the Rocket Guide to Vanuatu to plan your Vanuatu wedding.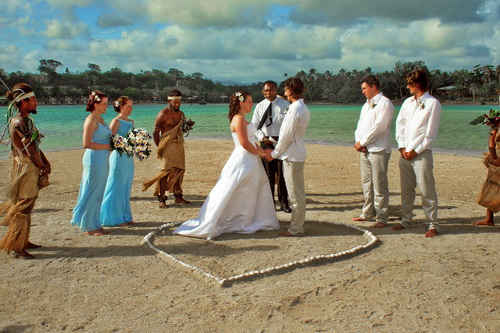 South Pacific Romance

Newlyweds and married couples wishing to re-affirm their vows, adore Vanuatu's wonderful culture, exciting adventure tours, and hidden beaches.
Port Vila Wedding Coordinators
Wedding coordinators plan and direct every aspect of your special event. Including:

❤ Making your hotel reservations and special arrangements.
❤ VIP pick up at the airport,
❤ Pre-ceremony make-up, hair dressing and provision of wedding gowns and tuxes
❤ Flowers
❤ Coordination of the location and activities during the ceremony (like Melanesian dancers).
❤ The reception, wedding cake, champagne - whatever you'd like to have.
❤ Photography & videos on DVD
❤ Romantic dinner in one of Port Vila's excellent restaurants.
❤ A selection of tours and activities.
From the moment you arrive in Vanuatu, everything will be arranged, leaving you pleny of time to enjoy each other and the romance of this exotic country on your Port Vila honeymoon.
Legal Vanuatu Weddings
Non residents can be legally married in Vanuatu. There are no residency requirements so you can arrive in Vanuatu and be married the same day if you wish. But you have to contact a wedding coordinator at least six weeks in advance of the wedding date and within 4 weeks of the wedding date the coordinator must have:

❤ A copy of the Birth Certificate for the bride and groom
❤ If previously married, the bride or groom must provide either the death certificate of the former spouse or a certificate of divorce.
❤ A document showing the address of both the bride and the groom (this can be a bank statement or utilities bill with the name and address)
❤ Copies of the passport of both the bride and groom.
❤ Copies of the passports or identity papers of the witnesses for the wedding ,including their names, professions and addresses (this can be supplied by the wedding coordinator if you are not bringing your own witnesses).
❤ Completed Notice of Intended Marriage form (included in the information packages).
The Rocket Guide to Vanuatu has a special section on getting married in Vanuatu with a list of wedding coordinators and their contact details.
You can even get married if you arrive on a cruise ship and leave the same day (providing you have given the wedding coordinator at least 6 weeks advance notice).
If you wish, you can also have a non-legal ceremony and you don't have to supply any official documentation.
If you are thinking of getting married in Vanuatu download or order the
Rocket Guide to Vanuatu
to have a look at what each of the Vanuatu wedding coordinators offer, hotels, activities, and restaurants.